Remove the stress from looking
after your lawn
We aim to give you value for money by offering only the treatment that you require rather than the regular four granular or liquid treatments used by other companies. If your lawn needs four treatments we will offer this programme, however, where this is not required we will let you know and save you the unnecessary expense.
We aim to assess your lawn at each planned visit, of which you will be notified in advance. Any troublesome areas of the lawn will be diagnosed and the customer informed of the suggested action or treatment which can be offered to resolve the problem.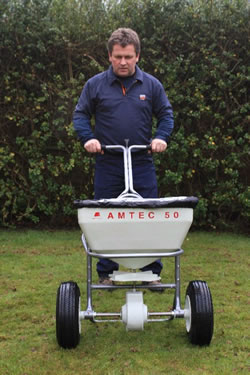 LAWNCare has a very close relationship with Coburns of Banbridge and uses superior fertilisers together with, weed controls and pesticides which can only be applied by certificated operatives.
We only use the latest top of the range machinery to treat your lawn. The aeration and scarification machinery are used by the top cricket clubs and golf courses around UK and Ireland. The liquid treatments in the majority of lawns are distributed through a pedestrian spray rather than a knapsack spray in order to give the most uniform delivery to your grass.
When using granular fertilisers we will do 2 spreads on your lawn on the same day. This ensures that we get the most consistent distribution to your lawn. So together with top of the range fertilisers, we will also give you the best possible service when spreading the product.
We will supply an optional extra to our service accomodating complete waste removal when carrying out scarification and aeration. It never ceases to amaze customers how much thatch comes out of their lawns after this process! The waste disposal process will comply with government legislation.
We source everything locally and use the skills of a market leading supplier to tailor the products for our climates.
We can provide a completely organic programme within our range of services.